Are We Growing Together on Terrace House?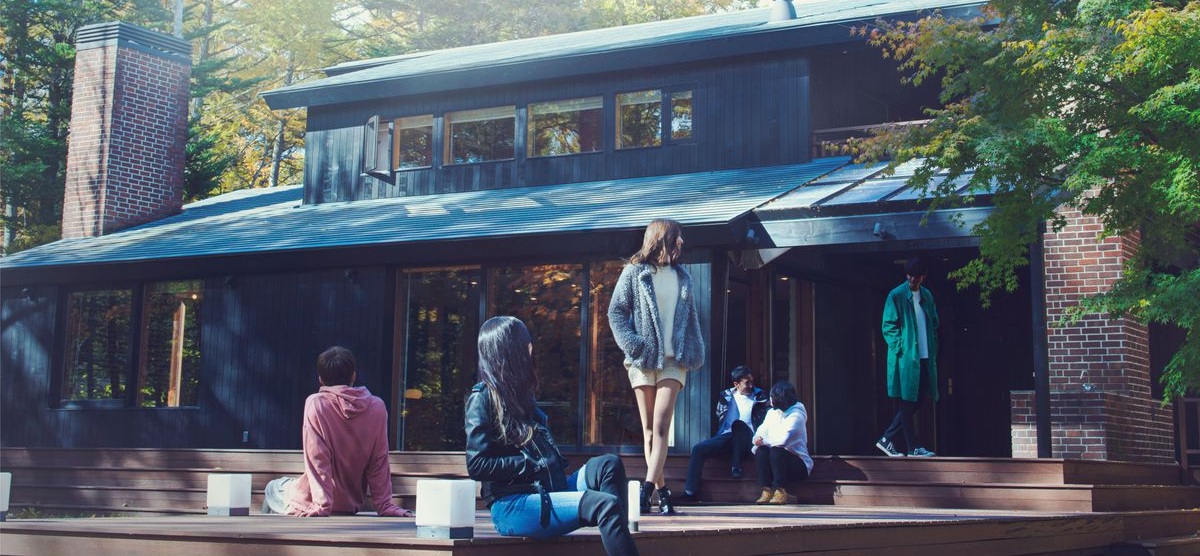 Until I watched Terrace House, I would say I can only watch reality shows related to cooking. When relationships of friendship, love, and family are at the forefront, those feelings seem too complicated and intimate for me to believe their unraveling in reality shows. Cooking and baking shows are where love may be shown in serving creative and delicious dishes. I could believe that more easily. In Terrace House, Japanese women and men become housemates and are filmed sharing a lavish house together. There is no competition or prize. The show's aim is to portray the daily lives of young adults in Japan. The only incentives are a nice home, the potential for fame off camera, and hopefully the bonds they develop with housemates.
In Terrace House, there's comfort in watching people do the mundane - cleaning the house, preparing dinner, deciding who does which chore - and then there's the thrill of watching drama ensue - Cheri ranting while drunk, Uchi crying in bed over meat, anything Seina does - but the greatest enjoyment comes in watching how each person improves as a result of the genuine and heartfelt connections they make.
"Everyone's emotional maturity comes into test when sharing a house with so many personalities different from their own. Most are willing to develop when confronted with their shortcomings while some are less willing."
LAUREN TSAI (Aloha State)
Like herself, Lauren's arc on Terrace House is subtle and internal. She maintains her quiet and introverted nature throughout the course of the show. She never falters from her self-assured personality but learns to welcome others.
When Avian and Naomi confront her about cleaning the girls room and making time for the dinner, she reveals herself as someone who is unfamiliar with making space for others. She's taken aback by Avian's requests. She's not accustomed to friends who are as direct as Avian is. Avian's straightforward and loyal personality is also what Lauren needs to nudge her own of world though. Avian becomes Lauren's confidant and encourages her to explore her crush on Taishi. No romance occurs between the two but Lauren taking the initiative to ask Taishi out and speak about her ambitions and emotions with him is a marked difference from the woman who said she didn't like hugging people at the start of the show.
TSUBASA SATO (Opening New Doors)
Tsubasa's arc on is the greatest storyline on all of Terrace House. I feel like I must disclose Tsubasa is also my favorite cast member but even as I try to be as objective as I can, I stand by my words.

Tsubasa is warm and friendly. She always welcomes others' company but she's also rarely vulnerable. Shion as well as her own father comment on how they know little of her life outside of ice hockey due to her reserved nature. Similar to Lauren, she's independent and self-assured to the point where making room for others is something Terrace House becomes the catalyst for her to confront. Without someone inquiring and prompting her, Tsubasa is reluctant to open up. So, as cheesy as Shion's comment about waiting for her to open her heart is, Shion's gentle remarks and persistence help Tsubasa build her self-confidence and emotional vulnerability. She's not used to being intimate (romantically and physically) or sharing her life and emotions with others but Shion helps her explore all these with patience and care.
"Tsubasa's storyline is the best because it exemplifies how Terrace House can be a space to foster emotional vulnerability and connection with others in order to prompt personal growth."
Sadly, we never see Ami's bonding with Tsubasa, Mizuki, and Shion because the show edited out most of Ami's friendships in favor of depicting her romantic mishaps. But as Taka points out, Ami and Tsubasa becomes very close friends despite the two women's dispositions standing in stark contrast to each other. Ami is intimidating while Tsubasa is welcoming. Ami is guarded just like Tsubasa though. Ami's guarded nature simply comes off as off-putting when combined with her, often hilarious, bluntness. We'll never know exactly how Ami and Tsubasa forged a bond so strong that the two vowed to be friends forever but it's clear Ami shared with Tsubasa a lot of herself underneath that reserved exterior.
Shion's affection for Tsubasa is undoubtedly the most appealing trait about him on Terrace House so naturally, most of his storyline is centered on romance but I see how he develops alongside Tsubasa. Like Tsubasa points out, Shion comes across as too perfect sometimes. He's so calm, patient, and considerate that Tsubasa wants to see his flaws. His shortcomings aren't explicitly shown but there are glimpses of Shion's boyish impulses in how he spends hours constructing an igloo or asks questions about Seina's plastic surgery or Mayu's breasts. Just as he's peeling back Tsubasa's defenses, Tsubasa is doing the same with him. Shion entrusts in her the childish side of him he prefers to seldom show. He's comfortable enough to let her peek inside the tall model to see he's still an immature silly boy. Tsubasa sees the Shion who randomly dances and screeches.
On Terrace House, Tsubasa builds her self-confidence enough to become vulnerable and open herself up to a romance and friendship with people she never expected and yes, it's the most damn heartwarming thing to witness.

MISAKI (Boys & Girls in the City)
Misaki's arc is one of my favorites because how resilient she is. She's naive, a little ditzy, and insecure but well-meaning and sweet. She's often stumbling and falling in the most cringeworthy of ways. Even young Rikopin knows walking around the house to show off in lingerie is embarrassing. But as awkward as it is, Misaki picks herself up and keeps trying her best. The Boys & Girls in the City series is great because it includes many of the housemates being called out for their flaws (Tap, Makoto, Hayato, Natsumi, Minori). They either learn to improve or they don't and leave soon after. Misaki stays and improves.
Misaki's biggest flaw is her insecurity leading to her tendency to base most of her confidence around men and her romantic relationships. So when Hikaru remarks on her lack of self, she resolves to be better. She wants to stand up for herself. After a disastrous night of being rejected by Hikaru and then chastised by a drunk Natsumi, Mizuki picks herself up and confronts Natsumi about her lack of consideration. When Misaki starts dating Brynes, her insecurity remains and she seems to lean into a certain codependency with Brynes. But her attempts to talk and be honest about her insecurities with him during the campfire reveal that Mizuki is trying her best. At least, she's able to have a very caring and cute partner in Brynes while wrestling with her self-confidence.
As a fellow twenty-something year old, it's comforting and relatable watching others in the same age range attempt to navigate careers, relationships, friendships, and simply being. In Lauren, Tsubasa, and Misaki, especially I find myself drawn to these young women for how similar they are to myself. Seeing each woman leave the house more confident than when they arrived fills me with deep satisfaction.

Additional Thoughts:
*Avian is the surfer girlfriend of my dreams. Yuuki is okay but never deserved her. I hope she had fun with him and continues to flourish with her clothing line.
*Ami is amazing. Yes, she comes across as harsh sometimes but I admire her honesty and determination to make sure her boundaries and feelings of disinterest are known.
* Even though Shion and Tsubasa are no longer together, I hope the two were able to continue to share and grow during their time together. I wasn't completely devastated when I heard the news because nothing could diminish the beauty and strength of watching these people, especially Tsubasa, grow.
*Hikaru is a fuckboy. I like that the show included a fuckboy to reflect everyday life but also, ugh fuckboy.

Good Reads:
Every Member of Terrace House, Ranked - Vulture | Obviously, Tsubasa tops my ranking list but this list is pretty accurate to my feelings.